Modify default multi-user roles with new 'custom roles' feature.
Multi-user functionality introduces true membership in your One-Key account to all your employees, and lets you choose what each team member has access to.
With the custom roles feature of multi-user, you can take this functionality to the next level by modifying any 4 of the multi-user roles that are available to you to better fit the needs of your organization.
---
Get Started on One-Key Web App
Launch the One-Key app on your web browser
Navigate to your Admin panel on the One-Key site
---
Custom Roles
Making a 'custom role' starts with modifying one of the 4 following editable default roles:
Items Only,
Projects,
Tool Manager,
View Only.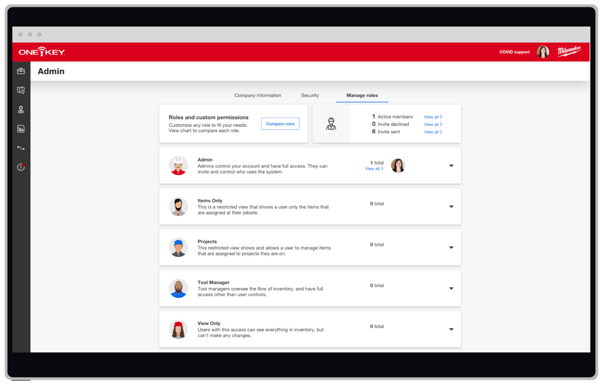 To customize a role, click on a role you want to modify and it will expand. The role's stock settings will display. Check marks indicate all the permissions associated with this role, while the grayed-out permissions indicate the items that this role does not come with by default.
Click the overflow icon in the top righthand corner of this role to "Edit" the role's name/description.
Click Save to make sure your new role is updated.
To change the permissions associated with this role, click "edit permissions."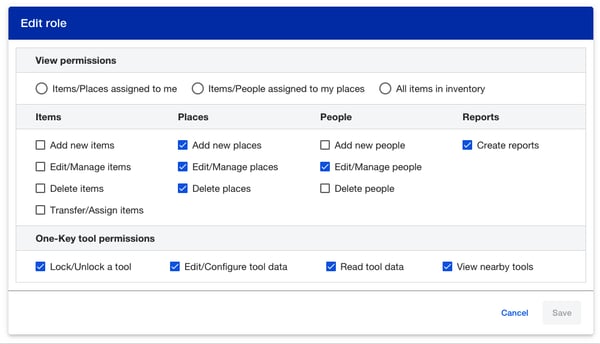 Change the role's view permissions.

Change the role's "items," "places," "people," and "reports" permissions.
Change the One-Key tool permissions
Click Save once you've modified your role to your liking.
---
Now that you've customized your role, you'll be able to invite new team members to join your account with a more tailored set of permissions that match your organization's needs.