With One-Key, you can manage large inventories, more effortlessly, by making changes in bulk.
We've incorporated time-saving features into One-Key to help you more effortlessly manage your items so you can spend more time on your trade. One such feature is Bulk Changes, which allows you to easily edit your tools of the same type, right from your mobile device. In this article, we'll show you how to take advantage of this feature.
---
Get started on the One-Key mobile app
Launch the mobile app
Your inventory dashboard will load.
---
How to make bulk edits
With Bulk Changes, you can edit all the tools in your inventory of the same type.
From your inventory, select an item you have multiples of.


Tap into "Item Details."


Make the changes to the item details you'd like.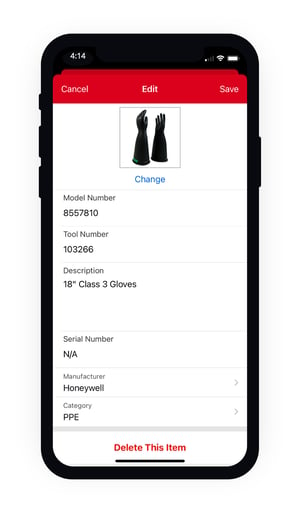 For instance:

You can update the item's photo if you have an updated product photo for this item.
You can update its model number if you've replaced your old models with newer ones.

When you're satisfied with your changes, tap "Save."
A prompt screen will appear, asking if you want to apply your changes to similar models.


Tap "UPDATE ALL."
Your changes have been made in bulk and your similar items have been updated.
---
One-Key's bulk changes feature helps automate your inventory process.