Tool kitting lets you group miscellaneous tools and equipment you're sending to the job in your gang box, all at once.
---
You might already be clumping a lot of miscellaneous tools and equipment into a job box—all needed to accomplish a day's work but easily misplaced in the chaos of an active building site. With tool kitting, you can now group these like items and send them to one place together. That way, everything is in one place, easily findable, and accounted for in the app.
In this article, we'll show you how to use the tool kit feature from the One-Key mobile app on your Android device.
Note: The screens featured in this article may appear different than what you see on your device due to different phone manufacturers having different procedures.
---
Get Started on the Android Mobile App
Launch the app on your mobile device. Your inventory will load by default.
You'll now see an option to display either "ITEMS" or "KITS." Tap "KITS" to get started.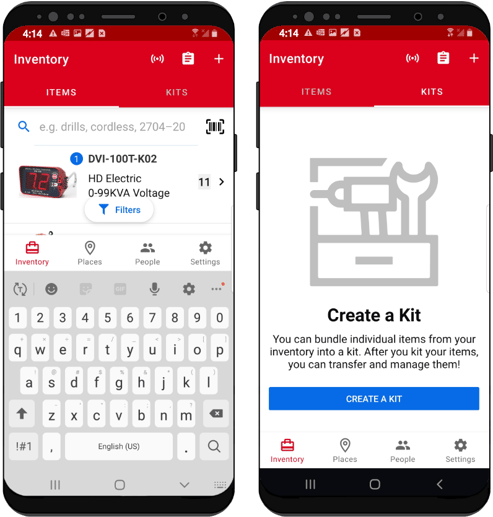 This is where your kits will live once you've built them. To add a new kit, tap "
CREATE A KIT
."
---
Create Your Kit
To create your new kit, first number your kit. This step is required and can help for easier finding in One-Key later.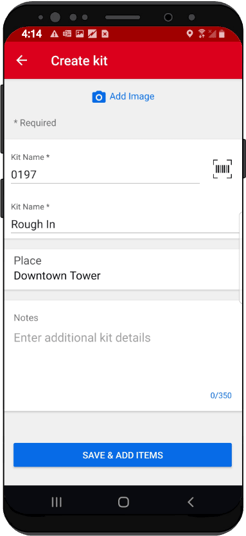 You have the option to enter this number in manually or scan a barcode or One-Key asset ID tag if you have one that you'd like to add to this kit.

Next, give your kit a name (also required) and choose the project or job you're sending it to. Then, tap "SAVE & ADD ITEMS" to start preparing this kit for the job.

You can add items to your kit by scanning their barcode or tag if you're using them, or you can type the name or model number into the search bar.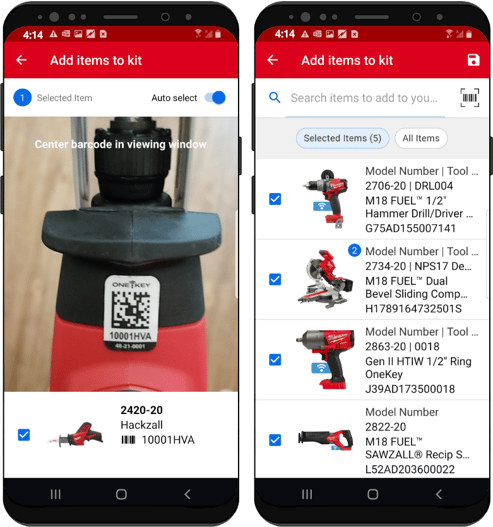 Continue this process until you've added all the items you want to add to this kit.

When you're satisfied, tap the Save icon in the upper righthand corner of your screen.

Your kit now will display when you launch your inventory and select the "KITS" menu.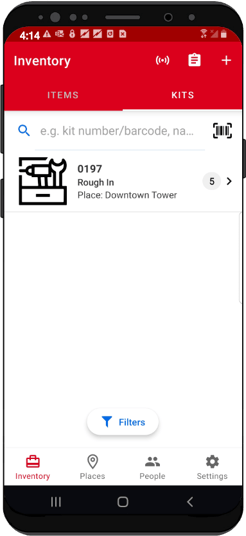 Tap into your kit to manage it.

You can inspect each of your kits to see what's on hand.

If you need rename, edit, or delete this kit, tap on the blue pencil icon at the top of your screen, beside the kit.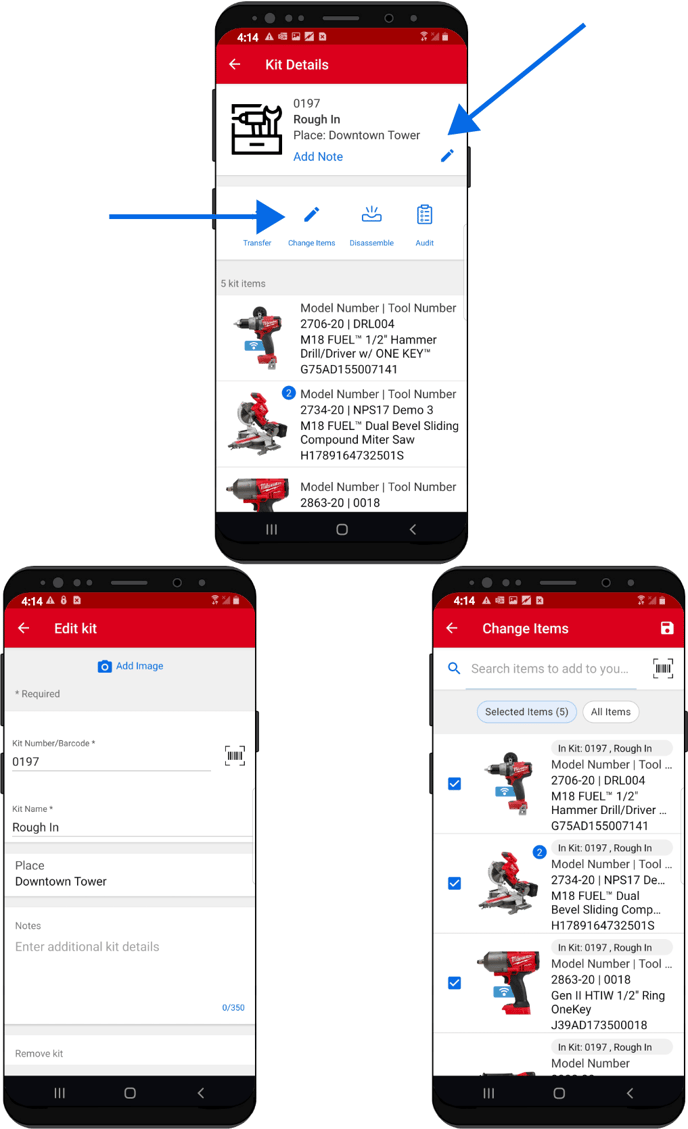 Here, you'll be able to change your kit's assigned number or barcode, change its name, or delete it if necessary.

You can change what's in your kit by tapping into "

Change items

" to add or subtract items to this kit from your inventory.
You can transfer this kit to another job where it might be needed. To do this, tap the "Transfer" button.

Just select where it's going. Assign a person, to add accountability. Assign a division to describe the type of work this kit is intended for. Change the status of this kit to reflect that it's ready for the job or already being used. When you're done, tap TRANSFER.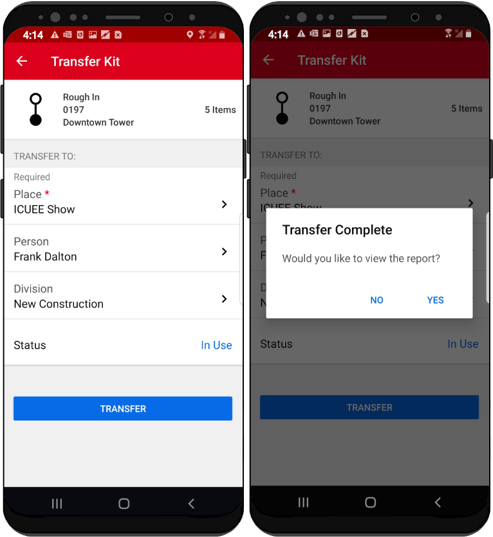 You'll be prompted to download a copy of this transfer. To do so, tap "YES." This transfer report can be printed off, or attached it to an email, to verify your tools have been sent.

You can also make use of the tool kit audit feature. Tap 'Audit.'

This feature allows you to support accountability in your company by checking in your kit and its contents in real time as it arrives on the job, or at the end of the day or the end of a project to ensure what you started with is what you've ended with.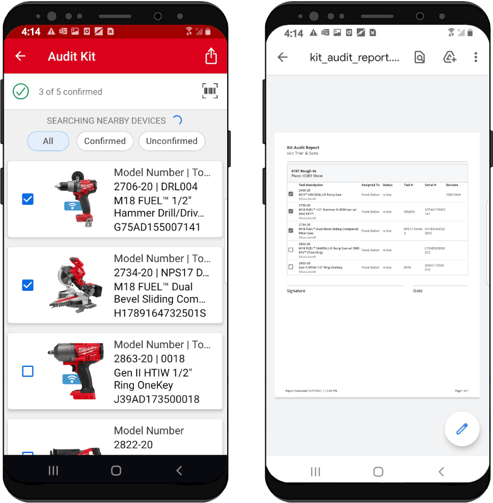 Confirm wh

a

t

you h

a

ve on h

a

nd by selecting e

a

ch item individu

a

lly. If something th

a

t

's supposed to be in the kit isn't there, le

a

ve it unchecked. You c

a

n then send this

a

udit b

a

ck to the tool te

a

m to iron out

a

ny discrep

a

ncies.

Finally, if this kit is no longer in use, you can select "Disassemble."

You'll be prompted with a question, making sure you are certain you want to disassemble your kit. Tap "YES" if you're sure.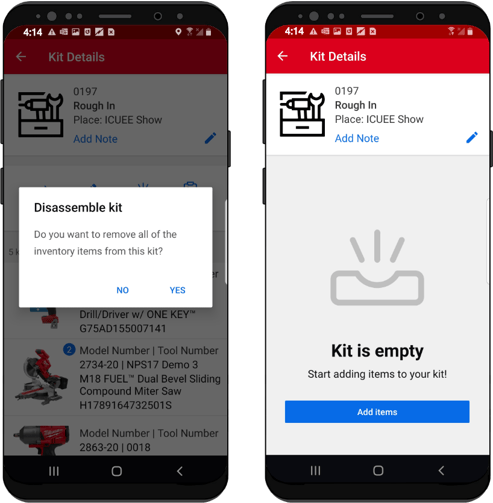 Your tools will be added back to inventory as unassigned.
Your kit has been disassembled and your items are ready to be reassigned.
---
With the tool kit feature in One-Key, keeping track of groups of tools and equipment on the job is simpler, allowing you to group the items you're sending in bulk in a gang box or job box