Manage projects and jobs, on the go, from your Android device.
---
---
It's easy to keep track of the places you manage in One-Key. In this article, we'll show you how to add a place using your Android device.
Note: The screens featured in this article may appear different than what you see on your device due to different phone manufacturers having different procedures.
---
Tap 'Places' along the bottom navigation menu, then tap the white "+" icon to get to the Places selection screen.
Here, you'll be given option to add 3 main kinds of places in One-Key:
A Project or Job might be one of your active jobsites;
A Home Base would be your headquarters or a central tool and equipment storage location, such as the crib or tool room;
A Vehicle is any job on the move, like a service truck or van.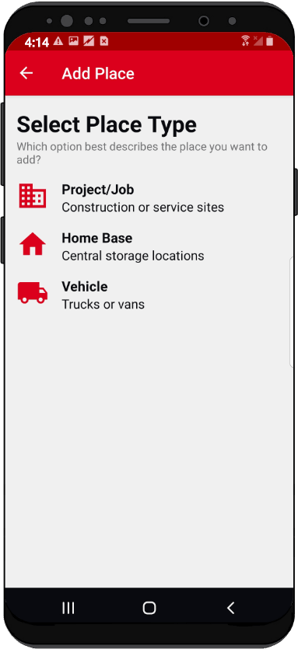 Once you've made a selection, tap on the place type you want to add.
On the next screen, you'll be able to add your new place.
Note: This screen will look slightly different depending on the type of place you're adding. For project/job, you'll see an option to add a project/job number, while home base has the option to add a cost code, and vehicle has the option to add a vehicle number. All that's required to save this place is a name, or you can tap the "ADD DETAILS" button to add more project information.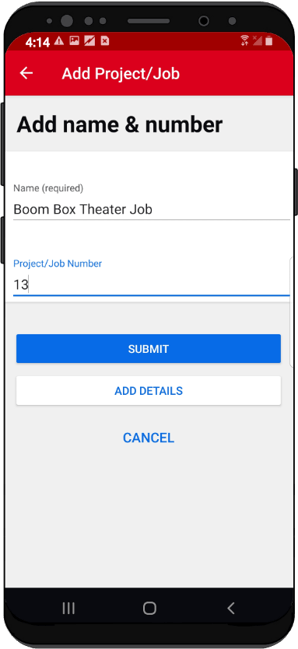 If you're ready to add this place, tap "Submit." You'll get a green success banner telling you that your place was successfully added. Tap "view place" to see your new place.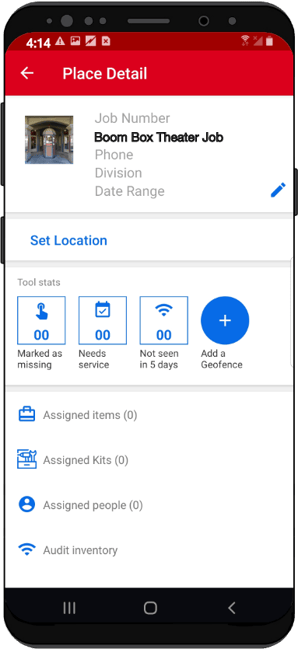 This is your new place's details. Tap 'Set Location' to add an address for your new place. You can type your place's address directly into the provided search bar at the top of your screen or press and hold the map to drop a pin on your desired location. Tap the save button in the top righthand corner of your screen to log this location into the app.
Click the back button to get back to your place's details. Once here, you can tap the blue pencil icon to edit this place and add more information.
You can add the phone number for this place so team members can reach you. If you wish, you can also select a division to better describe the type of work done here, and you can add a photo to your place so it's visually recognizable in the app. You can also assign crew members to manage this place.
Make sure to save everything you've added.