Use your Android smartphone to remove a tool from your digital inventory.
Maybe one of your tools has been replaced with a newer model or is worn out beyond repair. Whatever the reason, you may on occasion need to delete a tool from your digital inventory. With the One-Key mobile app, you can easily do this from your Android device.
Note: The screens featured in this article may appear different than what you see on your device due to different phone manufacturers having different procedures.
---
Get started on the One-Key mobile app
Launch the One-Key mobile app.

The homepage, or Inventory Dashboard, will display on your screen.
---
How to delete a tool from your inventory
Need to tidy up your inventory? This section will explain how to delete a tool in One-Key from your mobile device.
Starting from the Inventory Dashboard, tap on the item you wish to delete from your inventory.



Your tool's detail card will display on the screen. From the Item Detail page, tap on the box at the top of the page where the name of your tool is displayed.



To delete the item, scroll down and tap on Delete This Item at the bottom of the screen.

A box will appear asking if you want to cancel or complete the action. To proceed with deletion, tap the "Delete" button on the right side of the box.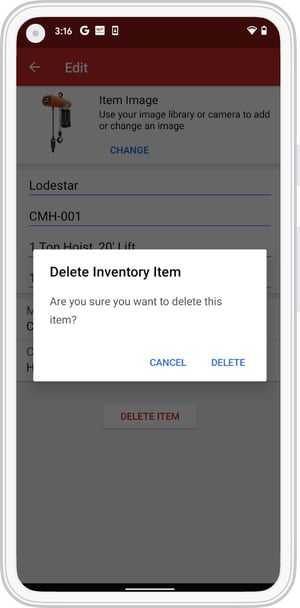 Now your item will no longer appear on your inventory dashboard.
---
Keep your One-Key inventory up-to-date by deleting tools that are no longer in use.